Message Series: Contemporary Issue of our Times...
By Pastor Mark Geer | April 15, 2016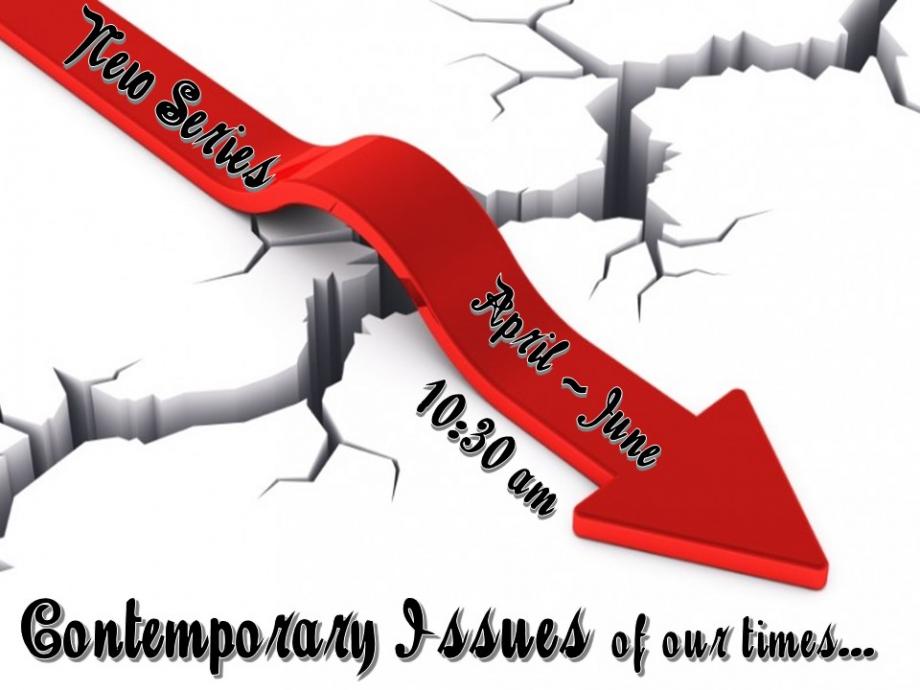 Message Series: Contemporary Issues of our Times...
The nature of life includes the discussion of current issues. Whether it be on the bus going to school or standing in line at the coffee stand to get our "morning juice", the latest issues are on the table. They range from who won the game last night to the weather and weekend plans. Yet those are the easy topics! They are not so controversial, unless of course you don't like the weather person's forecast or the fact that your co-worker's favorite team just beat the Seahawks in the Super Bowl.

However, more often than not, the contemporary issues of our times rise to the surface and stir up a hornet's nest of controversy and spirited discussion. Many friends have parted ways due to heated disagreements over politics, morals, religion, and matters of race, gender, and equality. Carried along by the winds of the media, Facebook, Twitter and lunch room conversations, these controversial matters have the power to destroy the closest friendships, split a church, and divide a nation.

We are currently facing in our times some big issues that need critical and careful attention before they completely consume our society with hatred and vitriol, leading to violence and death. These are contemporary issues that must be dealt with by the church and addressed with the Word of God. Should we choose to ignore them we face the alarming danger of completely losing our nation and many members of Christ's church down the confusing and slippery slope of immorality, selfish excessive pleasure, prejudice and greed.

Make no mistake, these are matters that will define our times and our generation. They must be biblically addressed and challenged. They need the light and hope of spiritual truth shined upon them and the practical wisdom of God proclaimed for how we can navigate these uncertain times. The Apostle Paul instructs the Church in Ephesians 5:15-17, 15 "See then that you walk circumspectly, not as fools but as wise, 16 redeeming the time, because the days are evil. 17 Therefore do not be unwise, but understand what the will of the Lord is." It is essential that we, as followers of Christ, gain a clear perspective of our times as the men of Issachar did during King David's reign, "who had understanding of the times, to know what Israel ought to do" (1 Chronicles 12:32).

Join us for an in-depth look at some of these contemporary issues of our times over the next two months as we explore God's Word concerning relationships, substance abuse, money and finances, matters of morality that include human sexuality, conduct, integrity, and also the matter of entertainment in our day. Your heart will be challenged for sure, for God is not silent about these issues in His Word. However, you will also find answers, direction and encouragement as you deal with many of these issues on a daily basis. Take heart, in the world you will have much tribulation and many challenging times, but Jesus said, "I have overcome the world!" (John 16:33).
Message Titles…
1) Relationships (Part 1) ~ Racial Tensions April 17
2) Relationships (Part 2) ~ Dating & Marrying April 24
3) Relationships (Part 3) ~ Parenting & Children May 1
4) Relationships (Part 4) ~ Men & Women May 8
** GUEST SPEAKER: Nathan Geer May 15
5) Substance Abuse May 22
6) Financial Responsibility & Resources May 29
7) Morality (Part 1) ~ Human Sexuality June 5
8) Morality (Part 2) ~ Christian Conduct June 12
9) Morality (Part 3) ~ Personal Integrity June 19
10) Morality (Part 4) ~ Entertainment June 26
May God use this series to strenthen our hearts, our famlies, our church and our nation.
Pastor Mark Geer
Back